&nbsp &nbsp Looking for a particular tire tread? Check out our tread products pages. Or perhaps you need a custom rubber compound. We can do that, too.
&nbsp &nbsp You can read all about our custom rubber compound requirements on our custom manufacturing page. (We can also offer siping on many of our precured tread designs. All the information is on our products page.)
With over 60 Precured Tread Designs to choose from, Oregon Tread Rubber Co. offers one of the largest selections of precured treads.
&nbsp &nbsp Here at Oregon Tread Rubber Co. we are proud of the quality that we maintain. Samples from each batch of rubber are cured and carefully tested to maintain the high quality of precured treads that are the hallmark of Oregon Tread Rubber Co.
&nbsp &nbsp From time to time, we like to feature a new tread design. You can find specific new precured tread designs on our featured products page.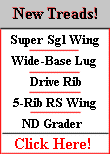 &nbsp &nbsp We are pleased that you took time to stop and look at our website.
If you have questions, be sure to Contact Us.